HUMMINGBIRD
FASTER THAN FAST
About
Welcome to CDL Hummingbird.
Powered by Elastic, CDL Hummingbird has a proven record as a powerful tool enabling high volume retailers to tackle fraud, gain customer insight and gain competitive advantage.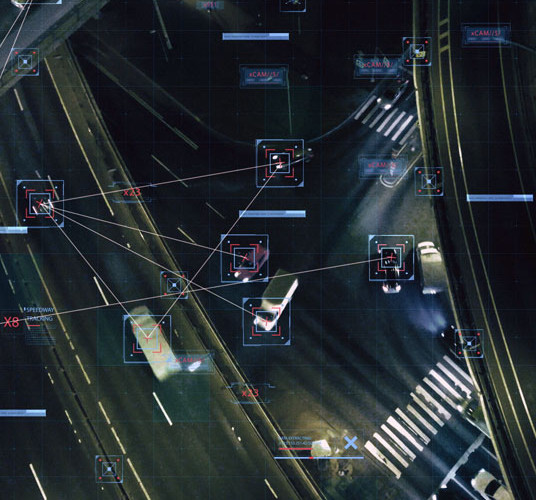 Hummingbird in numbers
90 TB Stored

17 Billion Documents Stored

80 Nodes in 12 Clusters

9,200 Searches Per Second

23,000 Docs Indexed Per Second

15 Milliseconds Response Time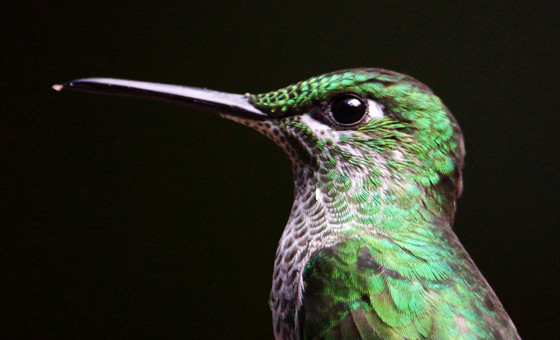 Power in search.
In a world where 2.5 quintillion bytes of data are produced each day, the ability to extract and harness relevant information in real-time is the key to unlocking real-world capabilities with the potential to transform business.
CDL Hummingbird's ability to complete complex searches from a range of sources and conduct real-time analytics and visualisations delivers ground-breaking data capability that enables retailers to derive meaningful value from their data.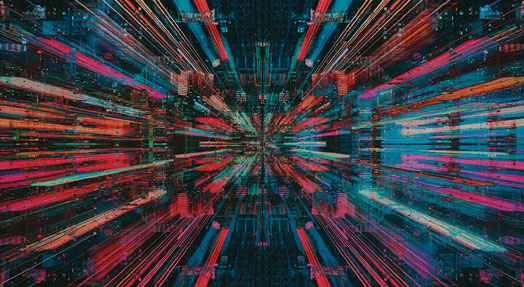 Services
CDL first launched Hummingbird in the UK insurance sector, where it is enabling retailers to identify fraudulent online activity in real-time by detecting patterns of data manipulation.
Tackling fraud as it happens
The UK personal lines sector is the most automated in the world. Dominated by price comparison websites, the marketplace is one where consumers primarily research and buy auto and home insurance online. Administration costs have plummeted as consumer demands for self-service have superseded the personal approach of face-to-face and telebroking.
But the apparent anonymity of the channel has come at a price: $1.8 billion in detected fraud and an estimated $2.9 billion in undetected fraud. Or put another way, an annual cost of $70 per household. Moreover, all the evidence suggests that the cost of fraud to the industry is escalating year on year rather than declining. CDL's response has been to look to new technologies that offer a radical departure from the past and a powerful means of tackling the problem at source.
Hummingbird Syndicate
Hummingbird has provided a solution with the ability to ingest and search enormous volumes of data in milliseconds, making it invaluable in the fight against fraud. Equally significantly, it provides a powerful tool for enrichment, customer profiling and real-time pricing strategies.
In 2018, CDL launched a revolutionary new anti-fraud syndicate, using Hummingbird to enable a number of major insurance brands to join forces to combat the growing challenge of quote manipulation and identify potentially suspicious patterns of consumer behaviour.
A number of CDL's customers are signed up to the new syndicate, including Bedford Insurance and Business Insurance Solutions.
Syndicate members can specify actions to be taken in the event that Hummingbird detects potentially suspicious behaviour, including redirecting customers to a contact centre, flagging quotes for post-sale validation, adjusting the premium or declining to quote altogether.
CDL's partnerships director, Nick Jackson, adds: "A significant proportion of consumers believe that manipulating their details is an acceptable way to reduce premiums, and speaking with our customers, it was clear this was an issue they needed us to help them tackle. It's been great to see syndicate members come together to share insight and overcome what is a growing problem for the industry and also for consumers, who risk invalidating policies by providing false information."
Within months, CDL had taken its proof of concept and developed Hummingbird as an industry-ready solution, deploying it to a number of household brands.
Faster than fast
Over the subsequent three years, CDL has proven Hummingbird's power as a search and analysis tool with phenomenal capability to search millions of data records and return results in the blink of an eye.
Its speed means that deployment is a matter of weeks rather than months, giving retailers quick access to a real-time anti-fraud detection system, capable of analysing over 1000 searches at sub-second speed, and presenting the results in live dashboards with drill-down reporting.
For example, in one early project, Hummingbird ingested 20 million aggregator records within two hours, and within eight hours, it had stored 140 million MOT documents with 29 data items per record.
Hummingbird's ability to ingest data from a range of sources means that new applications for the technology are being discovered daily, making it a powerful tool for any high volume retailer.
Use cases
Tackling online fraud: revealing the uncommonly common to detect suspicious patterns of behaviour

Customer profiling: redefining the concept of knowing your customer by tapping into a range of data sources to predict likely purchasing behaviour

Informing pricing: combining with real-time pricing to assess business value and adapt sales strategies accordingly

Transforming the customer journey: delivering the right information in ways that are automatic, simple and fast

Commercial insight: understanding past spending behaviour, including seasonal activity and price sensitivity, as a predictor of likely purchases

Personalised experience: use customer insight to serve up relevant content and delight the consumer by anticipating their needs
While the applications from customer to customer vary, the constants are the ability to search, analyse and visualise customer data in relevant, powerful and instant ways.
Strength in the cloud
Hummingbird is cloud hosted using Amazon Web Services to provide resilient, high volume storage and a faster, more consistent experience for users. The scalability offered by the cloud enables Hummingbird users to deploy on-demand big data analytics, expanding data clusters from one to thousands of servers in a few minutes, and then scaling down again once the analysis is complete.
By drawing from a range of data sources, such as third party databases, purchasing history and even social media channels, it becomes possible to anticipate consumer behaviour and serve up relevant information before they ask for it.
CDL is a top 100 tech firm in the UK. It employs around 700 people at its technology campus in Manchester, UK, and its squads deploy agile approaches to deliver high quality software in short timeframes.
Industry firsts
Specialising in high volume retail solutions, CDL has consistently anticipated consumer trends and developed solutions that enable retailers to capitalise on them. 
It builds elegant ecosystems which successfully deliver multi-channel propositions, integrating online, mobile, voice-activated devices and chat front-ends to meet the consumer where and when they desire.
CDL has repeatedly led the market by adapting new technologies into commercially viable solutions, from product innovation such as usage based 'pay as you go' insurance to transformation of the retail experience through concepts such as the 'virtual call centre'.
A market leader in the insurance sector, CDL's InsurTechX initiative has seen it transform the way in which consumers engage with insurance, and over the past year, it has accelerated its R&D activity through the launch of the CDL Incubator.
Testimonials
Award-winning context: Data-driven anti-fraud solution for iGO4
iGO4 is one of the UK's leading personal line brokers and has seen significant benefits as a result of integration with CDL's high-speed data intelligence and anti-fraud solution, Hummingbird.

In the solution's first year of live operation, iGO4 realised:

Significant operational savings from upfront automated checks and improved customer profiling;

A 10% reduction in post-sale cancellation of policies; and

A dramatic decline in other cost factors such as bad debt.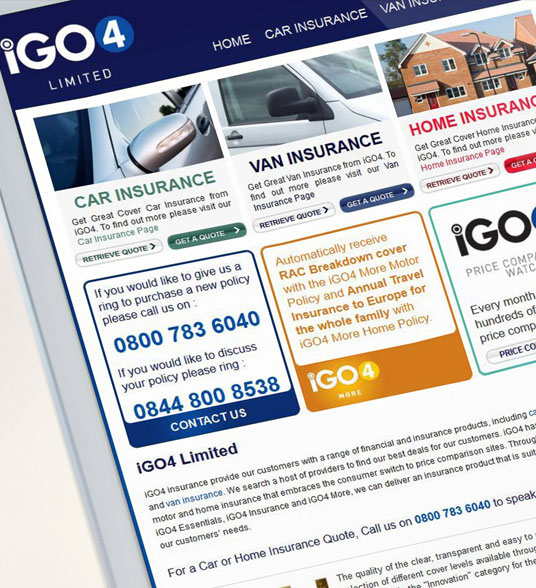 Ian Pritchard, Group Pricing and Placement Director at Business Insurance Solutions (trading as Van Compare), said:
"Hummingbird Syndicate is a really exciting initiative, signifying a collaborative effort between a number of intermediaries to harness the power of technology and invest in anti-fraud measures.

"With the ever-evolving landscape in our industry and the vast volumes of data involved, we cannot afford to stand still as we protect our own business and our insurer partners from risk misrepresentation or wider fraudulent activity.    

"The solution also presents opportunities to identify and therefore tailor our products and services to our customers' needs. We have every confidence that our longer-term performance and vision will be more achievable with Hummingbird Syndicate embedded in our business."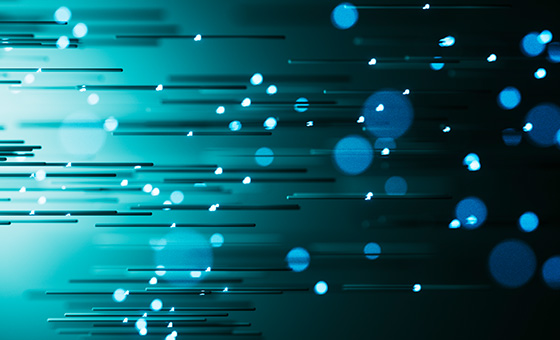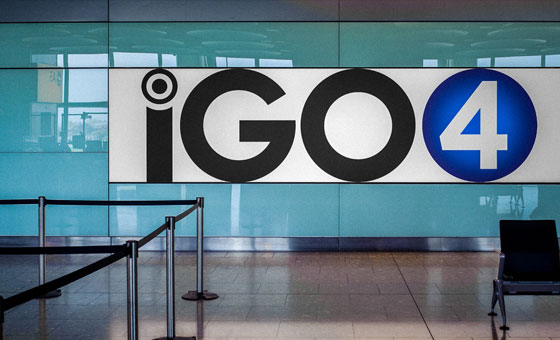 Matt Munro, Chief Executive at iGO4, commented:
"Not only has Hummingbird reduced our exposure to fraud and ghost broking, it has helped us to better understand our business and our customers.

"The real benefit of the solution is that it is directly integrated into our Strata retail platform, so we are able to use the data to create our own scores and rating factors. This gives us real competitive advantage and supports us in offering our insurer panel unique insight and additional rating opportunities."
iGO4 has used Hummingbird to improve its broker enrichment by analysing vast amounts of data held within the solution at point of quotation.

Hummingbird enables iGO4 to identify customers that are manipulating their quotes online and makes these results available in real-time, enabling the intermediary to take decisive action by using real-time pricing to influence the quoted premium.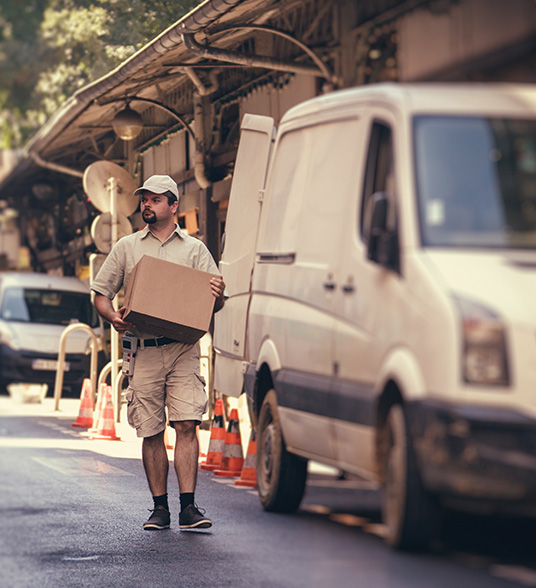 Mark Hare, Managing Director, Bedford Insurance::
"We are using Hummingbird Syndicate insights to enhance our quotation and policy validation processes, enabling these be far more focused and effective. It also provides our insurer partners with confidence that we are investing in measures to prevent application fraud and generate higher quality business"
Insights

Online quote manipulation in numbers
Hummingbird Syndicate is bringing together major insurance brands to benefit from sharing insights garnered using CDL's high-speed data intelligence solution and tackle the growing problem of online quote manipulation. In its first 30 days, it processed data relating to over 15 million motor insurance quotes provided by CDL customers to over 3 million consumers.
Tools to help visualise this data are revealing fascinating insights into the growing problem of quote manipulation and highlighting suspicious patterns of behaviour when generating insurance quotations. This is enabling more targeted, and therefore more effective, detection of fraud - a problem that, despite accounting for a relatively small proportion of overall sales, costs the industry huge sums every year.
With up to 90% of motor insurance sales originating online, depersonalising the process of shopping around for quotes, the inevitable temptation for people to experiment with factors that affect their premium is well documented. This is corroborated by the Hummingbird data, which shows that, on average, people request over five quotes when shopping for car insurance, although much of this activity includes consumers processing perfectly legitimate 'what if' quotations.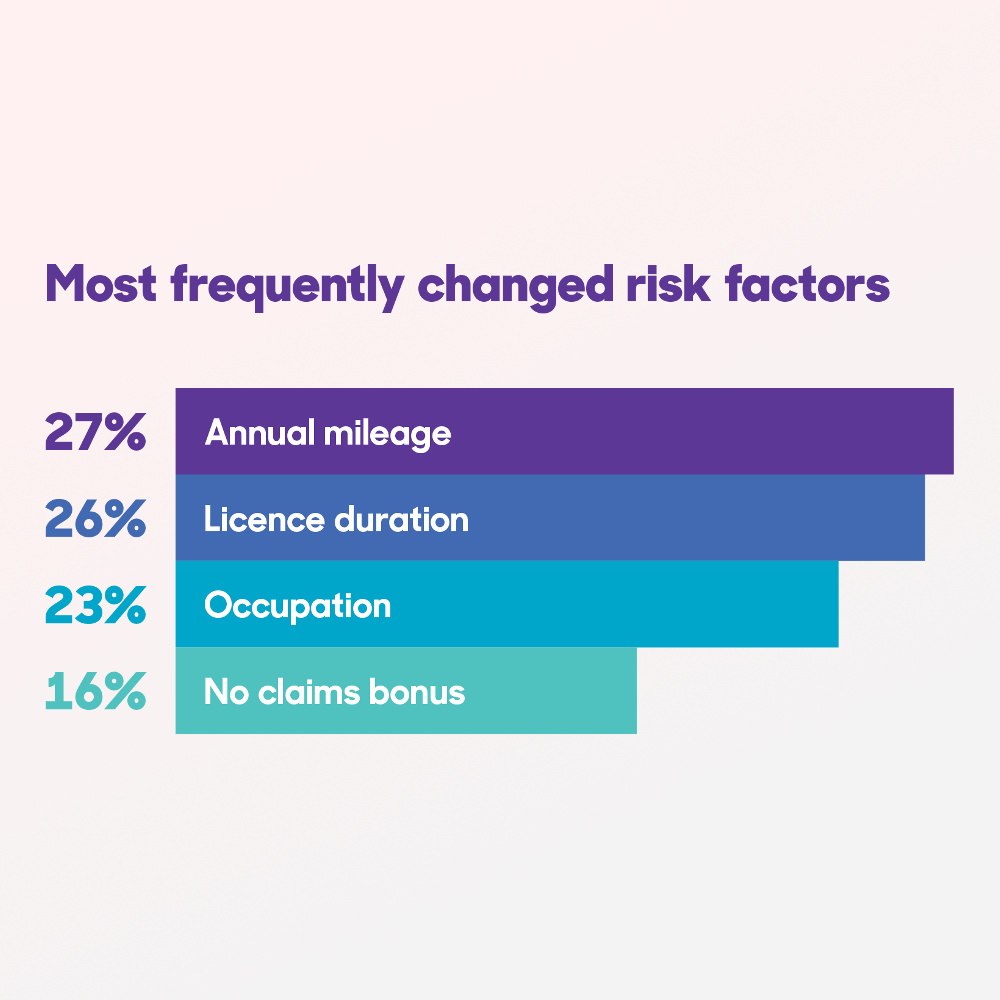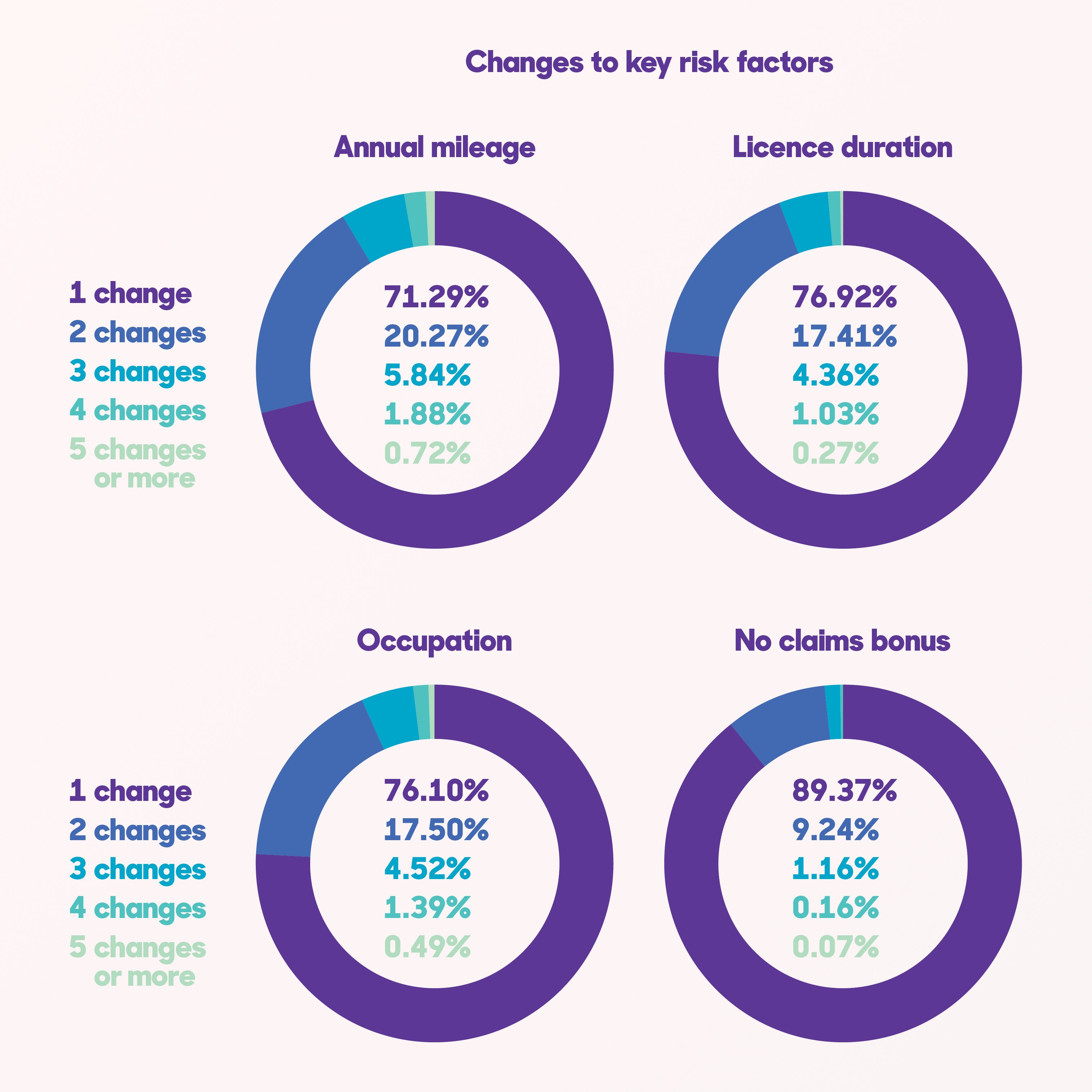 Almost half of the consumers in the sample varied at least one risk area between quotes, with the most frequently changed being 'annual mileage', altered by 27% of people. Of these, nearly a third entered two or more variables and over 5,000 people changed this value five or more times. No claims bonus changes also featured highly, with over 20,000 people making changes involving a variance of nine years. You can see why this may be suspicious, especially when multiple changes span a number of different risk factors.
We can also see an interesting relationship between the number of different risk factors people amend when requesting multiple quotes and the overall number of individual changes they make. This peaks at four risk factors. In other words, people whose changes involved four risk factors made the highest number of overall changes.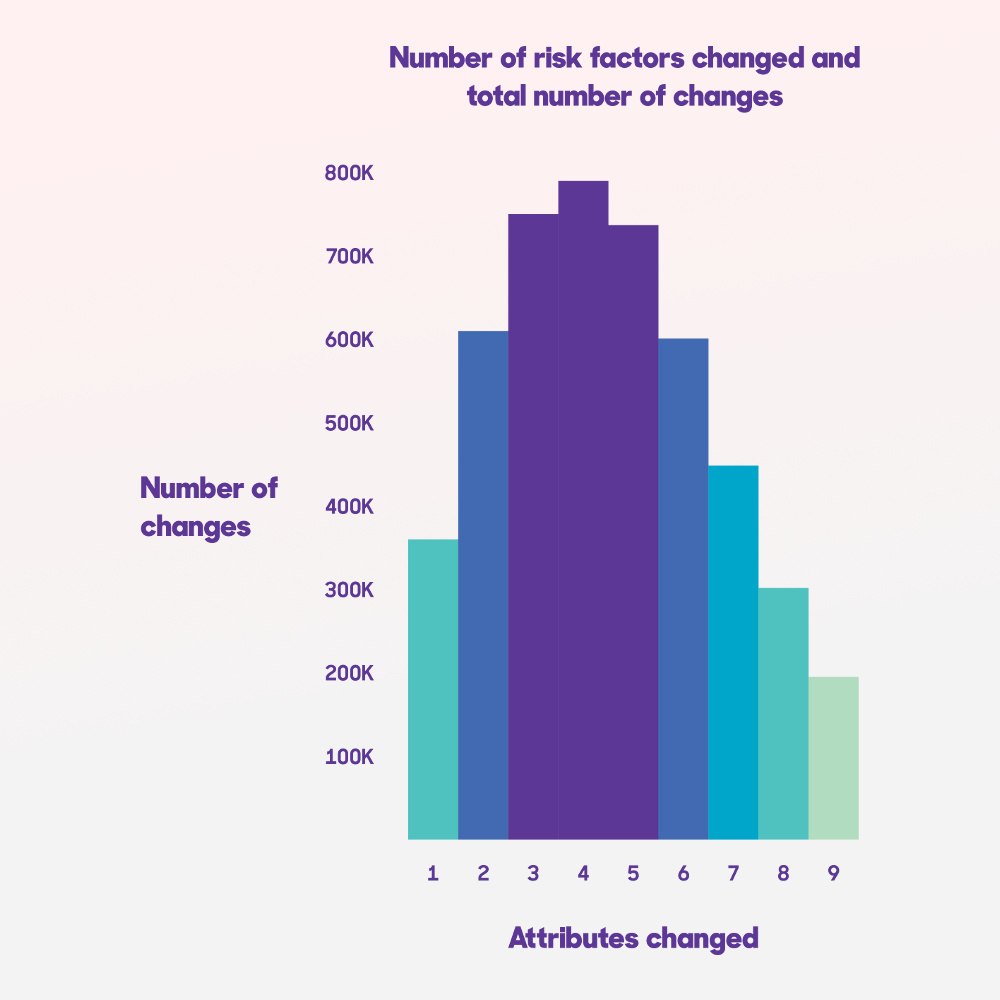 The data also provides insights into the times when people may be more likely to be engaging in quote manipulation. Whilst the overall peak time for requesting a motor insurance quote is 4pm, when the results are filtered to include only people who had made a significant amount of changes to their quotes, suddenly peaks in the early hours of the morning are visible.
Using data visualisation tools, certain patterns of behaviour become more readily apparent. For example, where changes involve the area where the vehicle is declared as being mainly kept overnight, it is possible to better understand potential hot spots using geo-mapping tools. Having identified potential anomalies, it is possible to drill down into specific postcodes and risks for further investigation.
While this could, of course, be legitimate, the key for retailers is that, overall, suspicious patterns can be highlighted, creating the opportunity to react accordingly and thus avoid hefty cancellation costs.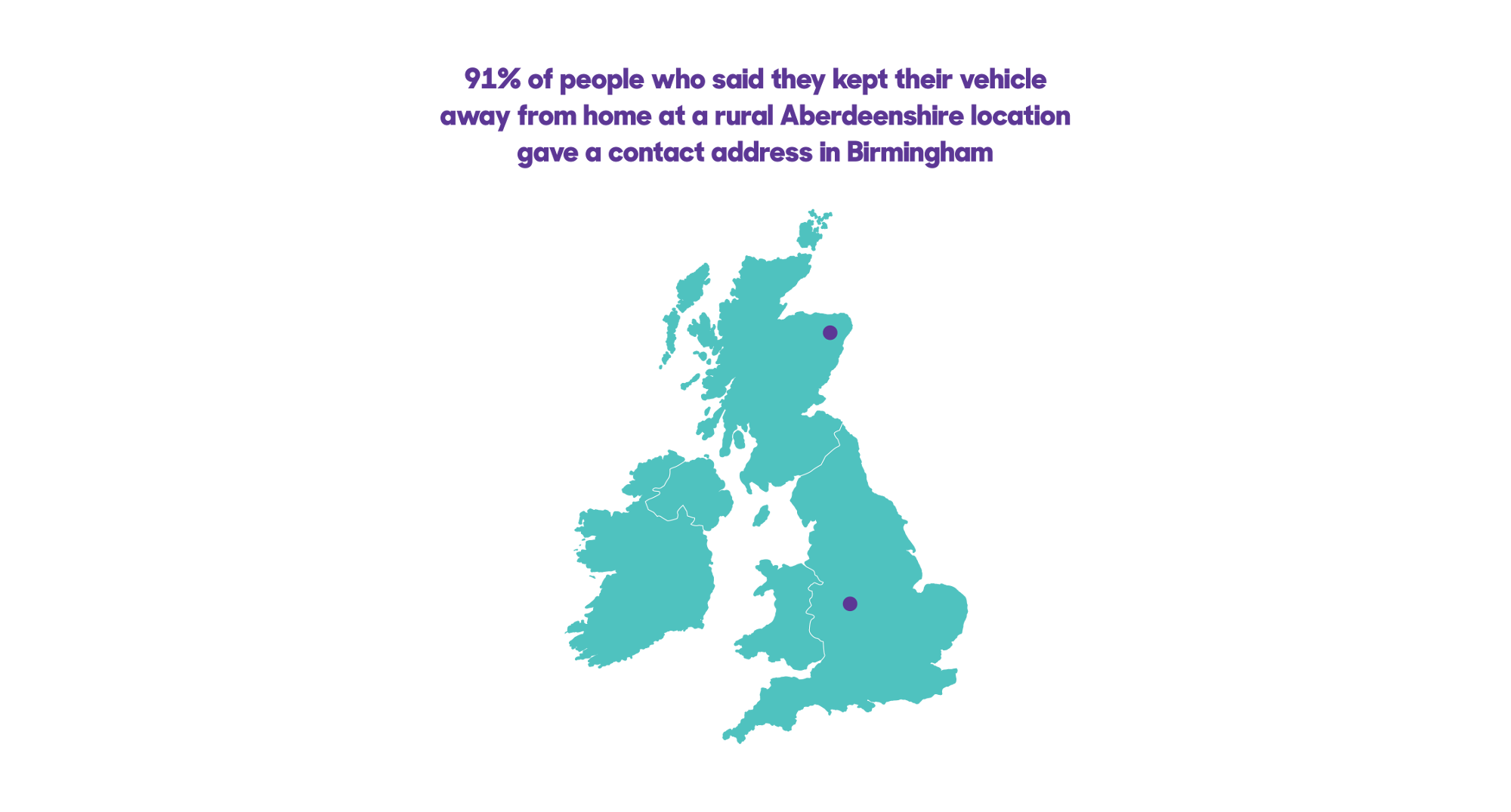 Effective quote matching routines are vital when it comes to detecting manipulation. Hummingbird is able to identify where people change names between quotes, which in some cases is done to avoid detection. This capability means it is also possible to detect potential instances of 'fronting'; where a consumer requests multiple quotes in different names, in an effort to obtain the lowest price. This is often done without disclosing the true main user of the vehicle, and risks invalidating their insurance policies.
Ultimately, it's up to Hummingbird Syndicate members how they want to use these insights. Not only does the solution aid detection of suspicious patterns of behaviour at point of quote, it enables retailers to initiate a range of actions to tackle fraud in real time, including redirecting the customer to a contact centre, flagging the quote for post-sale validation or declining to quote altogether.
Retailers are able to implement their own rules using real-time pricing to determine what action to take, with factors such as the number of changes a consumer makes between quotes, the type and combination of changes and the overall volume of quotes generated being used to apply a rating to an individual. They may also decide that changes to certain unvarying data fields, such as insurance refusals, will automatically result in a quote being denied or flagged for post-sale validation.
Two years on from its launch, Hummingbird is continuing to deliver real business benefits for customers, providing invaluable insight at point of pre-quotation. Hummingbird Syndicate is building on this by enabling the industry to collaborate and tackle head on what has become an increasingly challenging issue.
Contact
Phone

(+44) (0) 161 480 4420

Address

CDL Strata Campus
Kings Reach Road
Stockport
SK4 2HD